Based on the results of your complimentary skin analysis and your skin care goals, Jennifer may recommend Micro-Needling skin care treatments with the new MDerma by Dermapen.
In addition to treating benign pigmentation and Sun damage, this new treatment is also helpful for patients who seek a non-surgical aesthetic procedure reducing signs of aging like:
"crow's feet"
wrinkles and fine lines
skin discoloration and texture changes
stretch marks
sagging skin
Here are some "Before and After" photos of micro-needling patients, courtesy of Dermapen, showing hyperpigmentation and age spot reduction, wrinkle reduction, and acne scar reduction.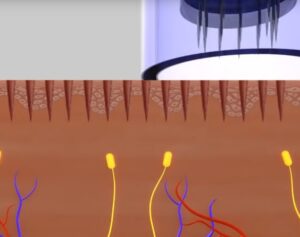 The actual micro-needling procedure involves applying very fine needles, adjustable as needed to an area of the top layer of skin. The tiny puncture wounds are not readily visible, encourage the body's innate ability to repair itself. This stimulation also results in increased collagen and elastin, giving skin a younger, fresher look with little or no downtime. Micro-Needling skin care treatments can revitalize and refresh all skin types.
MDerma Micro-Needling treatments have achieved desired improvements for the face, neck, chest, and body.
Micro-Needling skin care treatments can help to reduce signs of benign pigmentation and sun damage. Depending on the patient's skin care goals, this skin care treatment can be applied to any area of the skin that needs repair – arms, legs, chest, back or butt, in addition to the face and neck.
The micro-needles are so small, the procedure is practically painless, and downtime is minimal, if any.
The number of Dermapen micro-needling skin care treatments required to achieve results can vary. However, often patients can see results in as few as 5 visits.
Let Jennifer Fond help you look and feel better!
For questions about Micro-Needling skin care treatments, or to make an appointment, just Contact Jennifer.
Your skin will thank you for it!