For comfortable and safe hair removal, Jennifer may recommend Soprano Laser Hair Removal (also known as SHR): a proprietary hair reduction method developed by Alma Lasers and proven in clinics around the world to be safe and effective.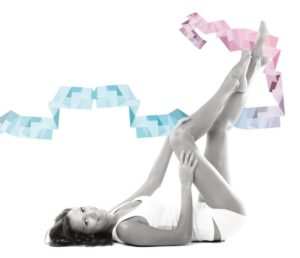 Soprano Laser Hair Removal works to reduce the hair growing in the treated area by gradually heating the dermis (the outer layer of your skin) to effectively damage the follicles of the unwanted hair. This treatment also prevents hair regrowth, in a way that avoids injury to the surrounding tissue. Our patients enjoy safe and comfortable hair reduction and removal treatments while SHR delivers a high repetition rate of short laser pulses deep into the skin (to damage hair follicles and prevent regrowth).***
SHR has been repeatedly proven in clinics and doctor's offices all around the world as a very safe and effective method of laser hair removal for all skin types.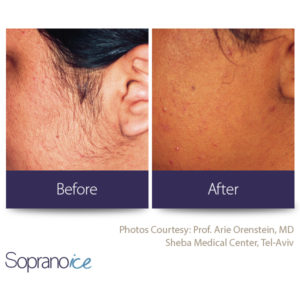 SHR works well for hair removal on darker skin tones, in which the melanin is significantly more sensitive to the heat used in many other commercial laser treatments.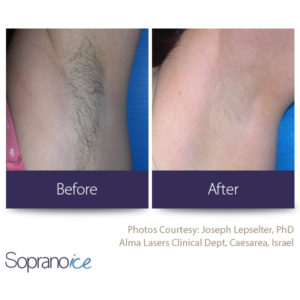 The Soprano Laser Hair Removal procedure may be performed anytime of the year, even on tanned skin. As an added benefit to Soprano Hair Removal treatments, Sun exposure is less traumatic to the skin following treatment.
A series of 6 treatments are usually recommended for most areas on the face and body.
One treatment every 4 weeks on the face and one treatment every 8 weeks on the body is typical.

Let Jennifer Fond help you look and feel better!
***Permanent reduction in hair regrowth defined as a long term, stable reduction in the number of hairs re-growing when measured at 6, 9 and 12 months after the completion of a treatment regime.