As we grow older, our skin changes in both texture and tone. These changes lead to fine lines and wrinkles.
Carefully focused heat from our non-surgical laser skin tightening treatments induce collagen and elastin production and gradually improves skin tone and texture of the skin.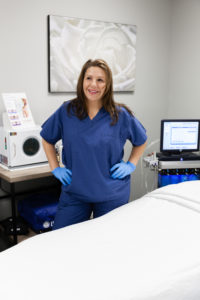 Jennifer and Dr. Farella have found laser skin tightening treatments to be helpful for skin tightening in the lower facial and neck areas of the body.
Laser skin treatments can provide a noticeable "lifting" effect without surgery or scars.
Results will appear gradually over several weeks or months following treatment.
To maintain desired skin tightening results, laser skin treatment often need to be repeated periodically.
Our laser skin tightening treatment procedures include:
Following a complimentary skin analysis, Jennifer will recommend treatments to help the patient achieve the appearance they desire, based on her knowledge and experience.
* Pages with more detailed descriptions of these treatments are being developed.