HydraFacial MD skin care treatments, for "The best skin of your life."


Why HydraFacial MD?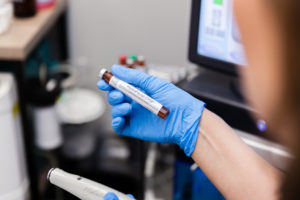 This photo shows Jennifer holding the hand-piece of the Hydrafacial machine. The cartridge that she is inserting into the hand-piece is a special vial of serum. This serum (CTGF) can only be sold to medical practices and used by estheticians who work in a medical doctor's office. CTGF (Connective Tissue Growth Factor) is US Patented 6,942,649. This is one of the main features that sets the Hydrafacial MD and the regular Hydrafacial apart. People can get a Hydrafacial at many day spas but only receive Hydrafacial MD treatments at a medical doctor's office.
CTGF are growth factors or proteins that regulate cellular growth, proliferation, and differentiation under highly controlled conditions. Connective Tissue Growth Factor stimulates biochemical pathways to promote tissue repair and regeneration. It also promotes the formation of elastic fibers and collagen which improves skin texture and elasticity.
The NEW, award-winning HydraFacial System advances skin health by merging invigorating spa therapies with advanced medical technology.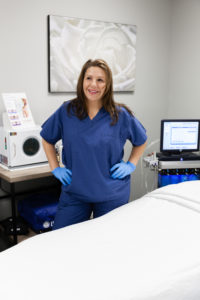 The unique spiral design of the HydroPeel Tips used in conjunction with the HydraFacial proprietary vacuum technology and serums creates a vortex effect to easily dislodge and remove impurities while simultaneously introducing hydrating skin solutions with patent antioxidants. This allows for unparalleled noninvasive skin resurfacing and temporary pore opening to effectively cleanse, exfoliate and extract impurities while simultaneously delivering proprietary serums to the skin.
HydraFacial MD treatments can improve these skin conditions:
Fine lines and Wrinkles
Elasticity and Firmness
Even Tone and Vibrancy
Skin Texture
Brown Spots
Oily and Congested Skin
Enlarged Pores
HydraFacial MD is actually a combination of skin treatments in steps that cleanse, exfoliate and extract, removing impurities and dead skin cells while simultaneously restoring skin with vital nutrients that include antioxidants, peptides and hyaluronic acid.

---
Red and Blue Light Feature of the HydraFacial MD Skin Care Treatments
There are 2 sets of 12 RED LED Lights
Red LED is the first set of lights which emit a wavelength of 620 – 630 nanometers. This set of Red LED lights are used to calm redness and inflammation and penetrate treatment serums. Infrared light is the second set of lights which emit light with wavelength of 800 – 900 nanometers. Infrared light stimulates the production of collagen and elastin and promotes microcirculation which brings oxygen rich blood to the soft tissues.
The Blue LED Light
Blue LED targets and kills p.acne bacteria, the strain of bacteria that plays a key role in causing most acne.
---

Let Jennifer Fond help you look and feel better!