For comfortable and safe hair removal, Jennifer may recommend Excel HR laser hair removal treatments.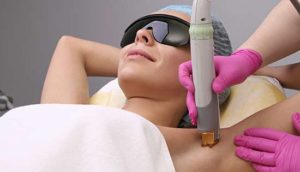 According to the American Society for Aesthetic Plastic Surgery, laser hair removal continues to be among the more often applied non-surgical procedures.
And when compared to traditional methods of hair removal such as shaving, plucking, or waxing, laser hair removal treatments have been proven to be a safe and effective method for permanent hair reduction. Our Excel HR laser system provides high-volume hair removal on all skin types. This laser treatment uses the safest wavelength for permanent hair reduction, even for darker skin types and tanned skin.
Each patient enjoys safe and comfortable hair reduction and removal treatments.
A series of several Excel HR hair removal treatments are usually recommended for most areas on the face and body. After a series of treatments, permanent reduction in hair regrowth is best defined as a long term, stable reduction in the number of hairs re-growing when measured at 6, 9 and 12 months after the completion of a treatment regime.
Let Jennifer Fond help you look and feel better!